Sustaining Soil Productivity – Vegetable Farmer
Government's Post-Brexit farming policy is framed around the mantra of "public money for public goods." One positive result of this is raised awareness of the vital need for greater care...
Along with clean air and water, soils are the very basis for life on this planet.
"Sustainability" is a popular banner term which in this context unites profitable farming and food security with conserving the environment's natural diversity.
Achieving that requires careful and sensitive husbandry in which soil management is a key element. Leading this approach in practical terms is LEAF (Linking Environment and Farming). Their activities have helped improve soil management through Integrated Farm Management (IFM) schemes.
Recently, Tom Green (LEAF Marque Chairman) said in their 2020 Report that; "in 2019 43 percent of UK fruit and vegetables were produced on LEAF Marque certified farms" which requires the application of IFM. Additionally, LEAF's Open Days are giving the general public practical views of good soil management.
What are sustainable soils?
Soil health is a key characteristic of sustainable soils. In turn healthy, high quality soils are key drivers in delivering wider benefits of natural and economic productivity. This is because they deliver efficient food production and conserve nature's flora and fauna.
Highly healthy soils regulate water percolation and drainage, provide aeration for root respiration, conserve nutrients from degraded organic matter or fertilisers and store terrestrial carbon. Organic matter is a major component of healthy soils. It helps improve soil structure, increasing friability and adding workability and trafficability.
Direct practical benefits of healthy soils include wider windows for mechanical operations, faster forward speeds, less implement wear and reduced need for subsoiling. In turn that minimises tillage costs by reducing tractor hours, number of passes, size of tractor and the implements required.
The risks of capping, compaction and erosion are reduced and drought resistance enhanced. Organic matter, as humus, increases the cation-exchange-capacity making supplies nutrients such as nitrogen, phosphorus and sulphur more easily available for root uptake. Soil storage of potassium, calcium, magnesium, copper and zinc is encouraged by the decomposition of organic matter.
Practical soil management
Ian Robertson, owner of Sustainable Soil Management (SSM) described his company's practical soil management programmes for growers.
Firstly, SSM provides a visual assessment determining capabilities for root penetration. Ease of root penetration is essential for crop establishment and subsequent productivity. Measuring this involves auger sampling to 1 metre deep and digging soil pits allowing the inspection the soil profiles, including sub-soils and top horizons.
Secondly, SSM interprets soil analyses into farming language relating crop nutrient demand into kg/ha fertiliser requirements and that minimises costs.
As an example of the benefits, lan cited recommendations for "salad lettuce crops where nitrogen applications were reduced from 160 to 100 kg/ha without yield loss but with increased shelf-life," a major quality improvement for retailers and consumers.
SSM services
The GOLD LEVEL, costing £160/test, where all soil properties are analysed.
That gives a long-term soil strategy for the whole farm and is done once every 10 years providing a soil management and cropping plan.
This is reinforced by SILVER LEVEL assessments done every 4 years which check progress and refine instructions.
Considerable emphasis is placed on developing vigorous roots which result in healthy productive plants, higher yields and improved crop quality.
Raising the intensity of soil microbial activity is a key indicator of health and stems from the incorporation of organic matter.
Variations in soil structure across fields affect the speed with which organic matter decays and increases health.
TerraMap
SSM now offers TerraMap, which identifies in detail soil structural variations across fields. As a result, areas where yields will increase or decrease caused by changes in soil depth, impeded drainage, plough pans and alterations in the underlying rock strata are identified. Growers can then maximise cropping in those areas where deeper more productive rooting is possible.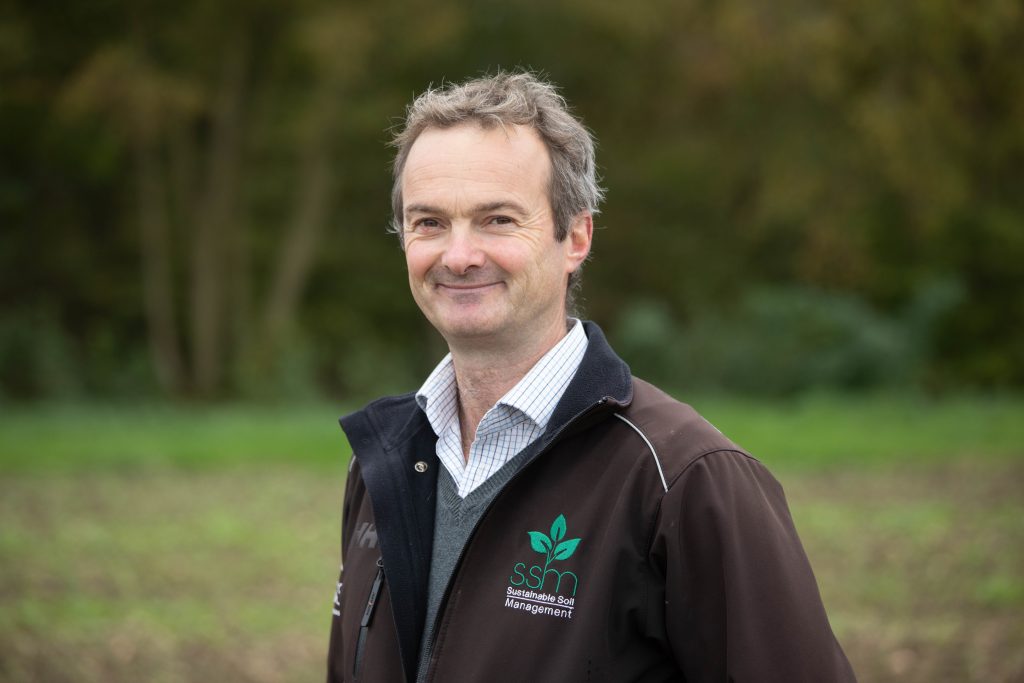 Ian commented that "every 1 cm deeper rooting by pea crops makes another 130 tons of soil/ha available for nutrient and water uptake".
Deeper rooting is also helped by increased soil aeration and ease of penetration. Both these properties are encouraged by larger populations of earth worms, because worms recycle organic matter, they increase nutrient mobilisation, air and water infiltration and speedier drainage.
Adding organic matter
Organic matter is derived either from farm yard manure, cover crops or imported composted waste or digestates. Wherever possible cover crops should be part of crop rotations. Clovers and vetches are very effective cover crops and build-up soil nitrogen reserves. Sow these in late summer-early autumn and plough them under in the following spring advocated Ian.
Ploughing under without glyphosate desiccation results in more rapid decay with fewer visual traces remaining after 4-6 weeks. Where cover crops are artificially desiccated this leaves dry, hard residues which decay only very slowly he said. Mustard cover crops have the advantage of producing root exudates antagonistic towards some pests and diseases, but they leave fibrous residues which decay slowly.
Sustainability in practice
The Allenton Project is a mixed farming charity supported by the Game and Wildlife Conservation Trust in Leicestershire. Their studies have relevance for fresh produce farmers because they demonstrate the benefits of cover crops for soil health. Benefits also include blackgrass suppression, which is an important consideration with rented land.
Studies of the practical benefits of over crops identified "increased soil microbial and macrobial activities and reduced soil compaction," said Phil Jarvis, Farm Manager. Significant benefits also came from sowing field margins around the main cropped areas with herbage which encourages pollinator insects and carnivorous carabid beetles resulting in higher crop yields.
Reducing soil disturbance increased earthworm numbers and microbe populations, particularly soil fungi. Each of these improves soil structure and the capacities for absorbing heavy rainfall.
Consequently, there is less surface run-off, lower risk of flooding further down catchment areas, lower concentrations of sediment and losses of nutrients in water entering streams and other waterways.
The Allerton Project also found soil health benefits from cultivating along the land contours which improved soil structure, markedly reducing erosion by gullying down the fields.
Barfoots of Botley Ltd are growers of a wide range of high-value crops, including sweetcorn, tenderstem broccoli, courgettes, pumpkins, dwarf beans and broad beans on their farms in Sussex and Hampshire who have introduced a reduced tillage regime. They have a three- pronged soil management strategy which aims to improve soil sustainability and Increase production efficiency. This involves reducing tillage, growing cover crops and introducing controlled traffic farming (CTF).
Barfoots adopted the reduced compaction philosophy of "never putting a wheel where a seed would ever go" said Neil Cairns, their Farm Manager.
Using cover crops helps conserve nutrients, improves topsoil structure and reduces erosion on sloping land. Cover crops include Westerwolds ryegrass mixed with red clover which is sown as short- term leys and are especially useful as early bites for sheep.
These provide valuable additional organic matter which helps stabilise the early, freely draining soils of the Chichester Plain. Red clover builds up soil nitrogen reserves and encourages pollinating insects such as bumblebees.
The Universal Mixtures sold by Kings of Diss, Norfolk, are tailored as cover crops for differing seasons some containing several brassica types providing valuable sheep forage.
Introducing CTF is challenging for fresh produce companies because of the range of crops grown and machinery required.
Barfoots found however, that the down-stream benefits through reduced operational costs and increased yield are significant. In high-value fresh produce rotations introducing CTF demands careful management planning which is geared with a company's normal machinery replacement strategy and hence minimises costs.
George Thompson Ltd, Brook Farm, Essex, are third-generation vegetable growers focusing on serving the high-end and oriental food service sectors with niche crops. The Company is led by Peter Thompson, Managing Director.
They own 300 and rent 400 acres using rotations of spring greens, spring onions, green beans and leeks.
Green beans generate soil nitrogen reserves which boost the quality of spring cabbages, and alliums such as spring onions and leeks produce root exudates which are antagonistic against some soil borne fungal pathogens.
Approximately,35 tons of produce per week is sold mainly through London's wholesalers much of which then goes into the Chinese restaurant trade.
Most crops are direct seeded, and although that presents weed problems it has economic benefits said Peter Thompson; direct drilling is cheaper than using transplants" he added.
The Company farms sensitively, encouraging healthy soils and reducing impact on the environment wherever possible. This results in financial gains, because although Chinese restaurants are very cost-conscious, they use social media to advertise that their ingredients are produced by sustainable farming. That, said Peter Thompson "generates new business for us".