Partnership brings solutions to farming challenges – Will Parker
Protecting and enhancing soil health is an approach that is very much at the core to Mark Spendlove's approach to farming ...
An advocate of learning about new approaches and innovations linked to soil health, Mark believes it is crucial to really understand what is going on in soils and that in doing so he will make his farming enterprise at Sandyhill Farm, Rothwell, west of Kettering, more profitable.
"The last five years has brought about a real step change in our understanding of the impact of soil health on farming systems, and this has generated new and innovative ways of looking at what we have in the soil and how we can manage it better," he says.
It's this mindset that led Mark to having a gold and silver soils assessment through Sustainable Soils Management (SSM), says Farmacy agronomist Will Parker, who is working closely with Mark.
These assessments are ideal for soil benchmarking purposes, providing the information needed to actively manage soil resources and optimise crop performance. As well as a thorough analysis of the soils physical aspects such as soil texture and structure, biological activity of earthworms, slugs, beetles and overall microbiology is also measured. Total nutrient and mineral levels are measured as part of the assessment.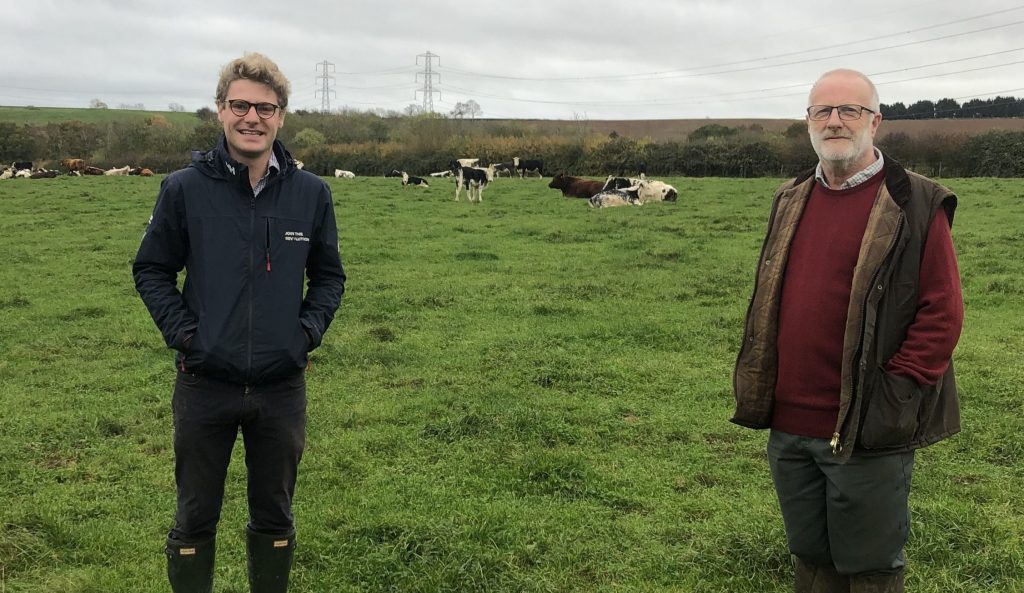 Will Parker (left) with farmer Mark Spendlove
The background to the soil testing came from several sources explains Mark. "Routine blood tests from our suckler herd regularly showed up deficiencies in copper, selenium, iodine and cobalt, and our standard approach to counteract this was to bolus the cows with the required nutrients."
"However, I suspected that the deficiencies were coming though the forage which could then be linked back to the soils- and this is part of what led to having the healthy soils assessment."
Mark was correct – the soil sampling results reflected the very same deficiencies as were being picked up in the blood tests. "However, we knew that if we could get trace elements in the soils correct, these would come through to the forage, and prevent nutrient deficiencies in stock fed from either grazed or ensiled forage."
"However nothing is straightforward, we sit in a rain shadow and the soils can be very dry so nutrient uptake is often limited."
However where there is a will there is a way! Working closely together, Mark and Will have spent time looking at how this is addressed in other parts of the world. Will found research from New Zealand showing that treating forage leys with foliar applications of nutrients can be very successful.
Discussing this with Mark they both felt that this would be worth trialling on Sandyhill as it would address the challenges of nutrient uptake when soils are dry, and the first trial will happen next spring.
"We have also looked at the benefits of applying micronutrients in the crop before the forage to see if we can get the levels correct in the soils before the forage crop requires them."
Selenium is deficient on every field on the farm, and this is very likely to be the root cause of the deficiency in the blood of the livestock. To recitify this, Will has recommended a fertiliser booster (which includes selenium) that will be used on the previous cereal to the grass.
"Selenium deficiency can cause a secondary Iodine deficiency, and therefore addressing the selenium issue may solve the Iodine issue."
"However, iodine levels are measuring at low levels in every field, so that is unlikely to be helping, says Will. However I believe we should start by rectifying the selenium issue and see if that helps, before addressing iodine separately."
"We will also compare blood samples of cattle grazing fields which had low and high copper analysis in the soil to see if this is the root cause- if so we will treat with a product like Headland copper (435 g/l (32.2% w/w) copper oxychloride (equivalent to 256 g/l copper)
Will uses the Omnia precision software platform to record each field's trace element status in the form of a simple mapping system. "Omnia is a holding hub for any field related information –the soil sampling results are held here. It's then possible to add in any additional relevant field data from weed mapping and seed bed conditions to nutrient requirements. "
"The system incorporates all of this information in mapping form, producing accurate and bespoke nutrient plans for each field."
Mark Spendlove has also looked into different grass mixes for the herbal leys. "We have grown red clover and ryegrass in the leys, but reading about this recently, I have discovered that they are not the best companions, and rye grass has a high nitrogen requirement which is challenging to address in our drier conditions."
"We are now looking at introducing grasses that are deeper rooted than rye grass, such as Timothy and Cocks Foot – as these are better at getting down to the water and nutrients. Festulolium
which is a cross between meadow fescue or tall fescue and ryegrass, also looks interesting as it produces a long fibrous root. "
Both Mark and Will are excited about their plans and feel that by working closely together they have been able to bring practical solutions to the challenges they faced in a sustainable and profitable way, that may not have been achieved if they had worked in isolation. " Its about being a partnership, we are leaning from each other."